My house is noisy! There's 2 fans running one in the kitchen to take the burnt smell away since I almost put my house on fire (AGAIN!) and one in the bathroom to mellow the fumes of chemicals I put in the drain. My washer and dryer are beeping too and so as my cellphone! I never even have any radio on but I am widely entertained by the sound of cleaning progress!
My kids are in sync by wearing blue today! All of them! They got their blue jeans and blue shirts on since they have this thing called Blue Day at school and I have no idea on why but hopefully they wouldn't start color coding the days! My eldest son who is in middle school thought it was fun so he wore blue anyway and the weird thing is that while I was typing I actually took the time to look what I'm wearing to see if I'm wearing anything blue which thankfully not!!
Moving on, I found me another meme this one is called Friday Fill-in and here's my first entry!
1. I can't believe it's April already yippee!.
2. I think I will buy mrs fields sugar cookies for everyone today.
3. How can I take this burnt smell out of my house!.
4. Baked Swordfish with roasted peppers served with couscous was the last thing I cooked although I cooked it longer than suggested and in different temperature because I'm a rebel that way but it was delicious! I mixed olive oil, parsley, a little soy sauce, a little sherry and pepper in a small bowl and brushed the marinade on the raw fish and cooked it 20 mins. in 400 *. I bought the fish from Trader Joe's it was money well spent and I will actually go there today to get me some of those fish! Here's the pic take a look!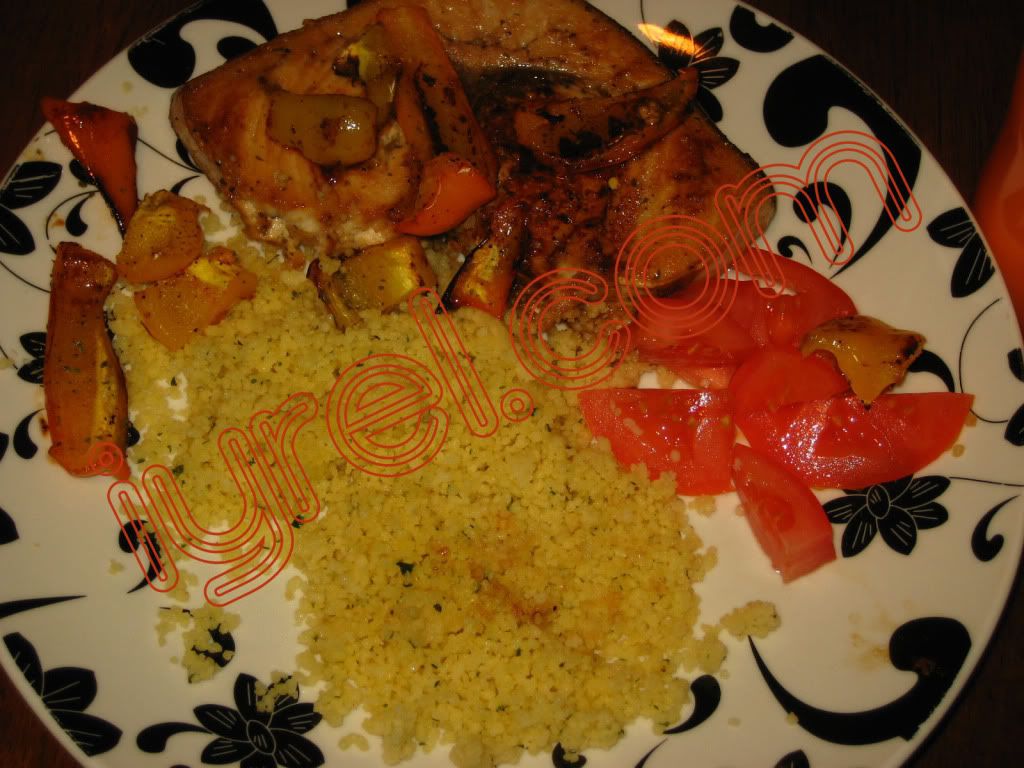 Yum huh?
5. Six of one– an episode of Battlestar Galactica! .
6. Not washing hands after using the toilet; is a big nonono!
7. And as for the weekend, tonight I'm looking forward to watch Late Night with Jimmy Fallon, tomorrow my plans include sleeping late and Sunday, I want to eat at Huhot!
Happy Friday everyone and enjoy fooling someone today!